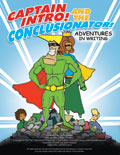 Captain Intro and the Conclusionator. This "Adventures in Writing" comic book helps students learn about writing introductions and conclusions. The story? Two students are stumped when it comes to beginning and ending their compositions. Captain Intro swoops in with practical advice, tips, and examples for writing introductions. Then the Conclusionator skateboards in with her help for writing conclusions.
Available through Amazon, Barnes & Noble, Prufrock Press, and many other sources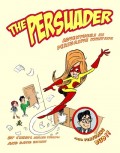 The Persuader—Adventures in Persuasive Writing. A comic book about a serious subject like persuasive writing? And one that's actually amusing? It can be done! The comic features a female superhero known as "The Persuader" and her sidekick "Bud," who swoop in to give practical help to two struggling students. The 16 page full color comic also includes a sample essay and five ready-to-photocopy lessons that reinforce the concepts taught, such as distinguishing between fact and opinion, writing a thesis statement, and supporting a thesis statement with evidence. Available from Classroom Comics Press and Teachers Pay Teachers.